About-Spain.net - the alternative guide to Spain

Spain - a land of castles and fortresses
Booking.com
offers simple online booking at best rates for hotels & apartments. Check out the following areas :
Segovia
Medina del Campo
Aranjuez
Penafiel
Jadraque
Peniscola
Lorca
Trujillo
Other areas
About-Spain.net
is partnered with
Booking.com
, to bring you the best online prices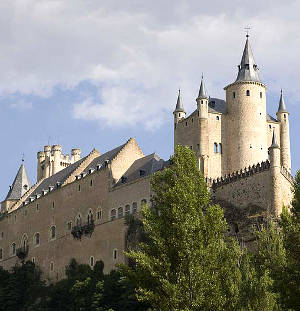 The Alcazar in Segovia Photo P.Maeyaert
For anyone planning a trip that takes in a visit to some fabulous mediaeval or Renaissance castles, Spain is the country to go to.
Centuries of conflict between Christians and Muslims in Spain have given the country a very rich heritage of litterally thousands of castles and fortresses, some huge, some big, some small, some fine and intact, many in ruins.
While the southern parts of Spain abound with "Arab" fortresses, the northern half is home to large numbers of "Christian" castles, built during the time of the Reconquest, often by building onto existing defensive positions built by the Moors - who were great military architects.
Castles were such a common feature in early mediaeval Spain, that they became the defining characteristic of the central part of the country which became known as Castile – Castilla in Spanish – the land of castles.
Spain is the kind of country where, driving along a rural byway, one suddenly finds oneself face to face with an impressive mediaeval keep, or massive fortress perched atop a rock in the middle of nowhere.... and not even mentioned in any general guidebook. In rural locations such sites may well be deserted, and the visitor is free to wander round the ruins which may or may not have information boards. After the reunification of Spain, defensive castles no loger served much purpose. Many fell into ruin, many more were deliberately demolished or part-demolished, to discourage local power bases or insurgency against the crown..

Castle at Peñafiel - Castile y Leon
Then from the Renaissance onwards, Spanish kings, princes, bishops and other grandees built or rebuilt their own castles, now serving as stately residences rather than fortresses, with baroque exuberence or neoclassical refinement – and sometimes both together.
The choice below lists just a
tiny
fraction of all the castles in Spain: it does not include the finest Moorish castles, - Granada's Alhambra, the Alcazar at Malaga - and others that are included in the list of best
Moorish monuments
in Spain
A few of the most impressive and significant castles in Spain: an ecelectic selection.
Alcazar de Segovia (Castilla y Leon) : The most visited castle in Spain after the Alhambra. A fairytale castle built on the impregnable base of a Moorish fortress

Fortress of La Mota at Medina del Campo.

La Mota (Medina del Campo, Castilla y Leon) : One of the best preserved Mediaeval fortresses in Europe - but largely off the tourist trail. A massive stone and brick fortress dominating the plains of Castile.

Castle of Peñafiel (Castilla y Leon)

Large mediaeval hilltop fortress, 210 metres from end to end, with double line of ramparts. One of the best preserved castles in Castile - but off the tourist trail, between Valladolid and Aranda de Duero.
Castle of Jadraque (near Guadalajara, Castilla la Mancha). Magnificent mediaeval fortress, based on a previous Moorish fort, spectacularly sited on a hilltop

Castle of Trujillo (Extremadura)

(Photo top of page) - A Moorish defensive castle taken over by the Christians after the reconquest of Extremadura. Impressive views from the ramparts, over the roofs of the small town and the plains beyond.

Castle of Lorca (Murcia)

The Castle of Lorca is one of the largest mediaeval fortresses in Spain, located at a key point along the Mediterranean coast. Many tourists see it without stopping to visit, since the A7 motorway enters a tunnel almost right under the castle.

Templar castle at Peñiscola


Peñiscola (Community of Valencia

). A beautiful Templar castle, on a rock beside the sea, and overlooking the old town of Peniscola. This castle is one of the most beautiful spots on Spain's Mediterranean coast, and has a museum of the Knights Templar

Royal palace at Aranjuez (Madrid area)

. The Spanish equivalent of France's Versailles, a magnificent Royal palace, a stately home but never a fortress, with fine gardens, located in the valley of the Tagus to the south of Madrid. This 16th - 18th century ensemble contains magnificent royal apartments, in the baroque style, with fine collections of paintings and furniture.

Castle of Manzanares el Real (Madrid area)

. Lying at the foot of the Sierra Guadarrama between Madrid and Segovia, and dating from 1475, the castle of the Mendozas is one of the best preserved fortified castles in Spain. A fine gothic castle with barbicans and very interesting stonework

Castillo de Almodóvar del Río. (Andalucia)

Arguably the finest castle in Andalucia, if you exclude the Alhambra in Granada (which is more than just a castle). Located a few km. west of Cordoba, on a hill overlooking the Rio Guadalquivir. There was a fort here in Roman times. The castle that stands today is of Moorish origin, and was renovated extensively by its owner in the early twentieth century. Guided and self-guided tours, with audio visual displays..
This list just scratches the surface; Spain has so many castles, that some are only listed on detailed maps, or strictly local guidebooks and brochures. Travellers wandering off the beaten track through Spain may well chance upon a fine old fortress, partly or largely in ruins, but freely accessible on foot to those who like to muse on their own round old ruins
More information:
Wikipedia :
incomplete but extensive list of castles in Spain
Mediaeval castle of Moorish origin in Trujillo, Extremadura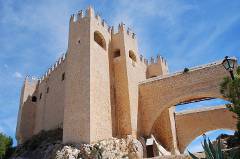 The castle of Velez blanco, Andalucia. The marble patio from this castle has been removed, and is now in the Metropolitan Museum of New York
More places to stay
in Spain:
Text and photos copyright © About-Spain.net except photo of Peñafiel, by Marnal.
Photos of the Alcazar in Segovia by P.Maeyaert, and of Velez Blanco by Felipe Ortega, licenced Creative commons.